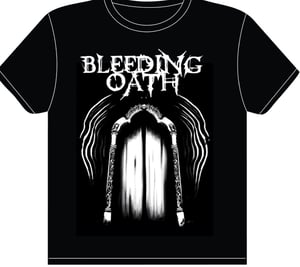 £

10.00
These shirts come with the EP artwork on the front of the shirt, as in the picture attached, and "FUCK OFF BLEEDING OATH" written right across the back!
Only 50 of these will be printed with "Fuck Off Bleeding Oath" on - so get yours now! :)
-=-=-=-=-=-=-=-=-=-
This beautiful new garment, hand crafted by Gandhi, is available for your to spend your hard earned shillings on.
It is sewn using the pubic hair of a unicorn and was blessed by a night elf.
Colours include: White on Black, Light on Dark and #FFFFFF on #000000.
Note: M, L, XL and XXL "Fuck Off" Shirts are now sold out!